What You Don't Know About Smoke Damage CAN Hurt You, Your Family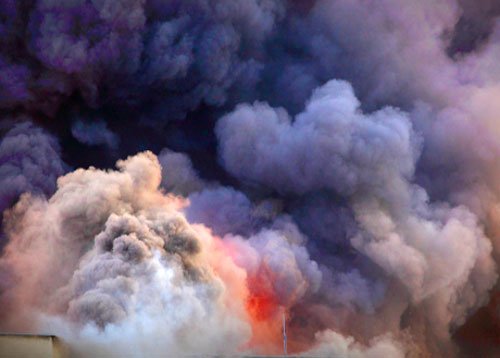 Smoke Damage Threatens Health. Period.
There is no debate. Smoke is simply tiny particles and vapor released in combustion. The composition of those particles depends upon what material or materials are burning.
In the case of even a small structure fire in your home or business, that smoke consists of almost certainly toxic substances that can cause serious health problems for people and even pets who breathe or ingest them.
Denver Trusts Delta Disaster for Safe Smoke Damage Restoration. Call Today!
So smoke is no joke. Consider these warnings from the U. S. Environmental Protection Agency regarding the health risks of smoke from fires:
Smoke is made up of a complex mixture of gases and fine particles produced when wood and other organic matter burn. The biggest health threat from smoke comes from fine particles. These microscopic particles can get into your eyes and respiratory system, where they can cause health problems such as burning eyes, runny nose, and illnesses such as bronchitis. Fine particles also can aggravate chronic heart and lung diseases – and even are linked to premature deaths in people with these conditions.
And this EPA warning is aimed at wood fires in homes or campsites! The EPA goes on …
If you have heart or lung disease, such as congestive heart failure, angina, chronic obstructive pulmonary disease, emphysema or asthma, you may experience health effects earlier and at lower smoke levels than healthy people.
Older adults are more likely to be affected by smoke, possibly because they are more likely to have heart or lung diseases than younger people.
Children also are more susceptible to smoke for several reasons: their respiratory systems are still developing; they breathe more air (and air pollution) per pound of body weight than adults; and they're more likely to be active outdoors.
Structure Fires Cause Toxic Smoke Damage
When it comes to the smoke that erupts from the myriad materials incorporated into your home or business, you can count on a lot of pretty ugly compounds ending up in its residue. Consider these warnings from the National Fire Protection Association.
Smoke is made of components that can each be lethal in its own way:
particles: Unburned, partially burned, and completely burned substances can be so small they penetrate the respiratory system's protective filters, and lodge in the lungs. Some are actively toxic; others are irritating to the eyes and digestive system.
vapors: Fog-like droplets of liquid can poison if inhaled or absorbed through the skin.
toxic gases: The most common, carbon monoxide (CO), can be deadly, even in small quantities, as it replaced oxygen in the bloodstream. Hydrogen cyanide results from the burning of plastics, such as PVC pipe, and interferes with cellular respiration. Phosgene is formed when household products, such as vinyl materials, are burned. At low levels, phosgene can cause itchy eyes and a sore throat; at higher levels it can cause pulmonary edema and death.
Play it Safe. Get Help With Smoke Damage
Delta Disaster Services can safely and effectively clean up toxic smoke damage in your home or business, ensuring the safety of your family, employees and customers. Call Delta Disaster for smoke damage cleanup and restoration and get peace of mind during uncertain times.
Learn more:
EPA: How Smoke From Fires Can Affect Your Health
National Fire Protection Association: The consequences of fire
3 Fire Damage Restoration Myths Every Property Owner Should Read
Don't Give Up Yet! Smoke Damage Can Be Repaired