Tips to Prepare Your Home for Fall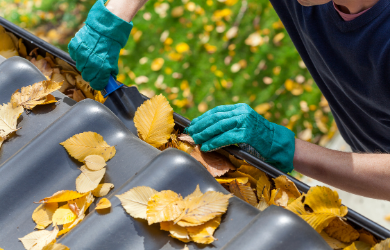 Ready or not, cooler weather is on the way, if it hasn't arrived already. You may be ready for the change, but is your home prepared? The arrival of Fall can bring with it wind, rain, snow, and freezing temperatures. Take these steps now to prepare your home and prevent any weather-related damage.
Gutters exist to divert rain water away from your home. It's crucial to be sure that they are clear and that water is flowing smoothly. Clogged gutters can not only lead to roof damage, but also water that seeps into your exterior walls and even the basement. Once you've removed any debris, consider adding a mesh covering to prevent leaves from coming back and forming new clogs.
Inspect and Clean Your Chimney
For most homeowners, this one is best left to the professionals. Hire a chimney sweep to inspect and clean your chimney system before you decide to burn the first fire of the year. Burning wood produces a flammable by-product called Creosote that can build up in your chimney. If left uncleaned, it can cause a disastrous fire. It's also important to check for any obstructions, such as bird's nests, and to be sure the damper is in working order.
Give Your Furnace a Check-Up
If it has been more than a year since your last professional service, consider scheduling one before you need to turn on the heat. Be sure that your pilot light is functioning and clean off any dirt or grime that you notice. It's also a good time to change your filters. Once you turn on the heat, pay special attention to any unusual noises, odd behavior, or odors as these can be signs that there is a bigger issue that needs to be addressed.
Insulate Exterior Pipes and Faucets
When temperatures drop below freezing, exposed pipes can start to freeze. This can lead to burst pipes and major water damage in your home. For any outdoor faucets, you'll want to turn off any shut-off valves and then open the faucet to drain the line. If you don't have shut-off valves, you should cover the faucet with an insulated cover. If you have unprotected pipes, cover them with foam sleeves.
Weatherproof Windows and Doors
Air leaks around windows and doors can cost you serious money in increased heating bills. Do a visual check around windows and door- frames for gaps in caulk, which can be easily remedied. Weather-stripping is another simple way to reduce drafts, but it can deteriorate over time. It's important to check it yearly and replace as needed.
Unfortunately, cooler weather often brings an increased risk of home fires. While we all hope that it will never happen to us, it's important to be prepared by doing a safety check as the seasons change. Replace the batteries in each smoke and carbon monoxide detector, and test each one to be sure it is working properly. Every home should have at least one fire extinguisher, but having more in various locations is even better. Do a quick check to be sure that the extinguishers are in good working order by looking at the pressure gauge and ensuring that the lock pin is in place. Experts recommend that fire extinguishers be replaced every 6 years.
A little preparation at the beginning of the season can save you a lot work, stress and money down the road. If you do experience a loss, Delta is ready and available 24/7 to help. Give us a call at(303) 933-4888.