Fire Prevention Tips for Your Home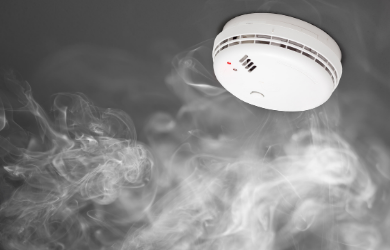 While we all hope it will never happen to us, it is estimated that there are over 300,000 residential fires each year in the United States. The fall and winter holidays always correlate with an increase in the number of fires, so it's important to know what you can do to prevent this tragedy from occurring.
Here are a few fire prevention tips to keep in mind:
Use caution when cooking. Cooking tops the annual list as the leading cause of home fires and related injuries in the United States and Thanksgiving is historically the top day each year for these accidents. Unattended cooking is one of the biggest contributors to residential fires. If you're frying, boiling, grilling, or broiling food, stay in the kitchen while it is cooking. When simmering, baking, or roasting food, check it often and never leave home while it's cooking. Another important safety tip is never to throw water on a grease fire. Instead, keep a lid within arm's reach and place it over the pan if a grease fire starts. Then turn off the burner and leave the pan covered until it is cool. Also, be aware of flammable objects near the stovetop, such as towels and loose clothing. Lastly, teach small children the dangers of a hot stove and the importance of keeping a safe distance while food is cooking.
Be aware of heating sources and open flames in cooler months. While heating your home during cooler weather is necessary, heating sources can be dangerous if you aren't careful. Space heaters are one of the leading causes of fires each year. If you have to use portable space heaters, place them on level non-flammable surfaces, like ceramic tile, rather than rugs or carpet. Be sure to keep flammable items, such as clothing, rugs, drapes, and blankets at least 3 feet from heating sources. Always turn off any portable heaters when you leave the room or go to sleep.
Utilize safe smoking practices. Another leading cause of residential fire deaths in the United States is smoking materials. If anyone in your home is a smoker, it's imperative that they follow safe smoking practices. The safest choice a smoker can make is to smoke outside and douse cigar or cigarette butts with water before disposal. If smoking outside is not an option, be sure to never smoke in bed or while drowsy, and definitely do not smoke in the presence of anyone using portable oxygen.
Perform routine maintenance checks on your home heating sources. Many residential fires are caused by poorly maintained furnaces, chimneys, and other heating sources. These incidents can be prevented with a little routine maintenance. Before cool weather arrives each year, make sure your furnace is clean and in good working order. Look for any cracked or rusted parts and consider having a professional inspection yearly. Also, check your chimney before lighting that first cozy fire. Creosote buildup is incredibly common, and extremely flammable. It's recommended to have a professional chimney sweep inspect your fireplace yearly, and remove any buildup.
Prepare your home and family in case a fire occurs. While no one wants to think about a fire occurring in their home, advanced preparation can save lives and lessen property damage. First, be sure to have smoke alarms in every sleeping room and on every level of your home. Also, test each smoke alarm monthly using the test button and replace batteries as needed. Next, be sure everyone knows what to do upon hearing a smoke alarm go off -- this is especially important with small children. Make an emergency plan, and practice it with your family. Think through things like escape routes from various rooms, a family meeting place once safely outside, and which family member will be responsible for getting small children and any pets to safety.