Top 5 Signs of Mold in Your Home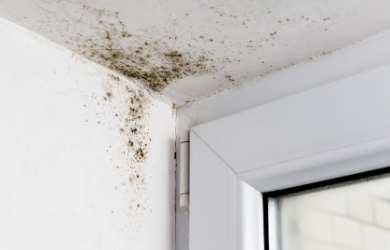 As many homeowners know, mold is one of the most unwelcome visitors and can bring health problems with it. Mold can show up in unlikely places and is easy to miss unless you know the tell-tale signs to look out for.
One of the most obvious warning signs for mold growth is water damage, whether it's recent or from a past incident. If you have a leaky roof or dripping toilet that you're putting off fixing, they can create the perfect environment for mold growth. But people often overlook the possibility of mold in areas of past water damage. Don't assume that just because visible water from a burst pipe or stormwater flood has been cleaned up that there is no longer a risk of mold growth. Water from these types of events can seep under flooring or behind walls and lead to mold growth that isn't visible without further investigation.
Ask anyone who owns an older home and they'll tell you that odd odors come with the territory, but that doesn't mean you should ignore them. Often times a musty odor is the only sign of mold that is growing in places you can't see. If the musty odor in your home is persistent and stronger in one specific area, it may be time to call in a professional to take a closer look.
It can be difficult to distinguish between health problems caused by mold and seasonal allergies because the symptoms are so similar. Common symptoms of mold exposure include sneezing, itchy eyes, and nasal congestion. When trying to determine the cause of your symptoms, consider when and where your health issues are at their worst. If sneezing and itchy eyes are only happening when you're inside your home, there's a good chance that mold could be the culprit.
Condensation is moisture and moisture is fuel for mold growth. If you're seeing condensation more often than simply in the bathroom after a hot shower, it may be a sign of a high humidity level in your home. Purchasing a dehumidifier is a simple way to correct the issue before it leads to mold growth. You may also notice condensation on metal pipes, which can be rectified by wrapping them with added insulation.
Water damage and mold don't always show up with clear warning signs. Instead, some of the quirky things that you've noticed in your home could be telling you about a bigger problem. Is there a section of your floor that feels squishy? It could be more than just your home settling – there's a chance that the subfloor has water damage and/or mold growth. Have you noticed bubbles in the paint on your walls, particularly in the bathroom or near a window? One of the most common causes of paint bubbles is moisture, and as you know, moisture often leads to mold growth. It's important not to overlook or put off these seemingly small issues and bring in an expert to take a closer look before it turns into a much bigger problem.