Prevent Flooded Basement Water Damage With These Tips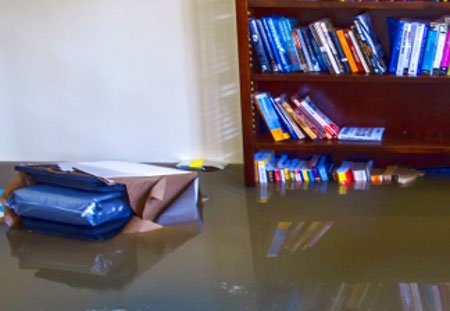 Flooded Basement Water Damage Is Avoidable
As cold weather rolls into the Front Range, the specters of frozen pipes and eventual spring thaw groundwater pressure threaten to turn Denver basements into smelly, subterranean pond. We hope we can help you avoid the expense and headaches of a flooded basement with these tips and reminders.
Flooded basement? Call Delta for Peace of Mind During Uncertain Times.
Start Outside
It may seem counterintuitive, but the first place to start protecting your basement from flooding water damage is outside. Your property has features designed to protect it by managing water and channelingt it away from the basement structure. This reduces the pressure of groundwater intrusion on your basement, lowering the risk of basement flooding from thawing ice in the ground, as well as spring rain and thaw runnoff. Here are a few areas to check:
Ensure that all gutters are clear of debris.
Make sure downspouts extend at least six feet out from the structure.
Check exterior French drains, ditches and culverts clear.
Move Inside
The elements are not the only threat that can flood your basement. Plumbing failures, expecially from frozen pipes in extreme cold weather, are a major cause of basement flooding and water damage. Follow these tips to reduce water damage risks:
Protect your plumbing from extreme cold weather. MORE FROZEN PIPES TIPS
Replace sump pump that are more than 19 years old.
Test sump pumps for automatic operation.
Ensure that all basement drainage features are clear.
In Case of Flooding, Act Fast
If you do everything right and the worst happens anyway, act fast to get the water extracted to reduce restoration costs. Delta has the people, know-how and equipment to get the water out, get your property dry and repair it to pre-flood condition fast. If you find your basement flooded, call Delta Disaster Services for Peace of Mind During Uncertain Times.
Learn more:
What Makes Denver Water Damage Different?
National Disaster Recovery Commercial Water Damage Prevention Checklist
U.S. Dept. of Labor Occupational Safety & Health Administration Flood Cleanup Guide
American Red Cross Flood Cleanup Safety Tips
Institute of Inspection, Cleaning and Restoration Certification Water Damage Resources