Frozen Pipes Flooded Basement Blues: Prevention Saves $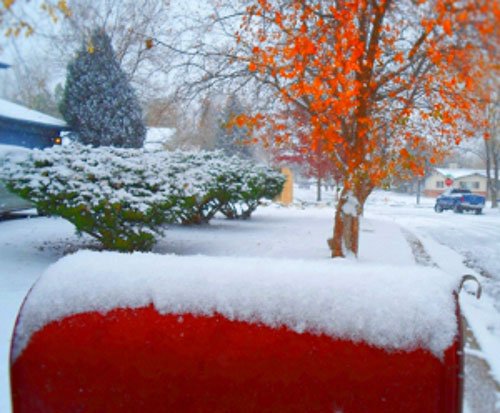 "Frozen Pipes Flooded Basement Blues" and You
Denver and the surrounding Front Range region is rife with environmental menaces that can leave you with frozen pipes flooded basement headaches and high costs. We have years of experience helping the Denver community recover from flooded basements after frozen pipes ruptured, so we want to offer these tips to help you find peace of mind when you face uncertain times.
First, Know What You're Up Against
The key to emerging victorious from any challenge is understanding the challenge. In Denver, and along the Front Range, we face unique environmental challenges that can inflict water damage on our homes and businesses in many ways. Extreme cold often yields to rapid warming, unleashing torrents of water into Front Range homes from pipes that froze and burst during the hard freeze.
Not If, When
Long-time Denver residents will say it's not really if you'll get a frozen pipe, but when. So understanding what happens when a pipe freezes and how to minimize the likelihood that a pipe will rupture if it freezes are key to preventing water intrusion and damage to your home or business. The most important thing to understand here is that water pushes along the length of the pipe as it freezes, so as long as there is room for liquid water to move (open faucet), then the pressure will not typically fracture the pipe.
So the first takeaway is to ensure that faucets inside your home or business are slightly opened (on) when temperatures will plunge below freezing for more than a few hours. While you're at it, keep under-sink cabinets open during extreme cold to circulate heated air to plumbing.
How's the Weather?
While we're talking about weather, do a little research on your area. Talk to some neighbors. Have they had frozen pipes flooded basement problems before? What about just plain seasonal flooding from spring runoff and groundwater pressure? Other things you may want to look at are historic insurance claims maps, available from FEMA, and historic weather maps for your area, available from NOAA. Armed with information, you'll know how best to prevent frozen pipes flooded basement water damage.
Keep It Up!
Maintenance is prevention, so ensure that all the features and structures on your property are in good repair so they can perform their functions properly. Clean gutters and ensure that downspouts deposit water well away from structures, especially those with basements. Check your sump pump for proper automatic operation. Think like water and ask yourself what could go wrong during extreme cold, spring runoff and severe weather anytime. Then do what makes sense to protect your property and prepare to respond if something goes wrong. That way, you're at least a few steps ahead, come what may.
If All Else Fails, We're Right Here
If you get overwhelmed, we're right here. When you call, we'll be right there with Peace of Mind During Uncertain Times.
Learn more:
Everything You Wanted to Know About Water Damage Restoration but Were Afraid to Ask
Save On Water Damage Repair Costs With These Tips
3 Types of Flood Damage Cleanup Denver Faces in the Next Year
What Makes Denver Water Damage Different?
National Disaster Recovery Commercial Water Damage Prevention Checklist
U.S. Dept. of Labor Occupational Safety & Health Administration Flood Cleanup Guide
Institute of Inspection, Cleaning and Restoration Certification Water Damage Resources